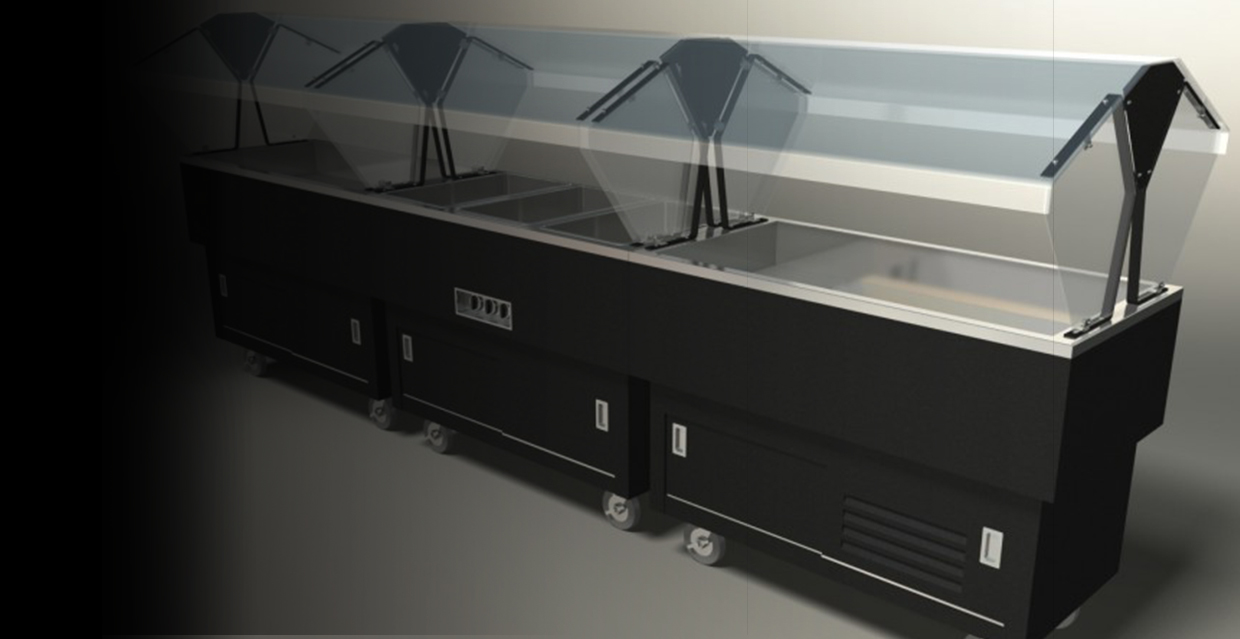 Clear Plexiglass Canopy
Complete line-up in one series
Twelve (12) standard powder coat paint colors
More Style, More Features, More Value.
Duke offers top-quality foodservice equipment at an affordable price. EconoMate units can be mixed and matched to fit your design needs. They come in (12) twelve standard powder coat paint finishes and have heavy gauge stainless steel tops. There are (3) basic body styles: Portable Open Base, Portable Closed Base and Table Top. Each unit comes with a one-piece clear Plexiglass canopy.
Hot/Cold
5" Deep ice cooled stainless steel cold pan
(1) hot well with infinite switch
Stainless steel top
Enclosed steel base with powder coat finish & sliding doors
Clear acrylic canopy
5" casters
Hot Food
2 - 4 hot wells with infinite switch
Stainless steel top
Steel base with powder coat finish & sliding doors
Clear acrylic canopy
5" casters
Solid Top
Stainless steel top
Steel base with powder coat finish & open bottom shelf
Clear acrylic canopy
5" casters
Ice Cooled Cold Pan
5" deep ice cooled stainless steel cold pan
Stainless steel top
Steel enclosed base with powder coat finish & sliding doors
Clear acrylic canopy
5" casters
Mechanically Assisted Cold Pan
5" deep mechanically cooled stainless steel cold pan
Stainless steel top
Steel enclosed base with powder coat finish & sliding doors
Clear acrylic canopy
5" casters
Beef Cart
Au jus pan
Carving board
Meat spike
Aluminum spillage pans
Removable stinless steel top
Steel enlcosed base with powder coat finish & sliding doors
Clear acrylic canopy with heat lamps
5" casters
Fluorescent Lights

Aluminum Pan

False Bottom

956-460

900 Series

AECY-X

3 Bar Tray Slide

Adaptor Plates

Solid Tray Slide

Bullet Lamp

Stainless Pan

800 Series

Round Telescope

Flat Telescope