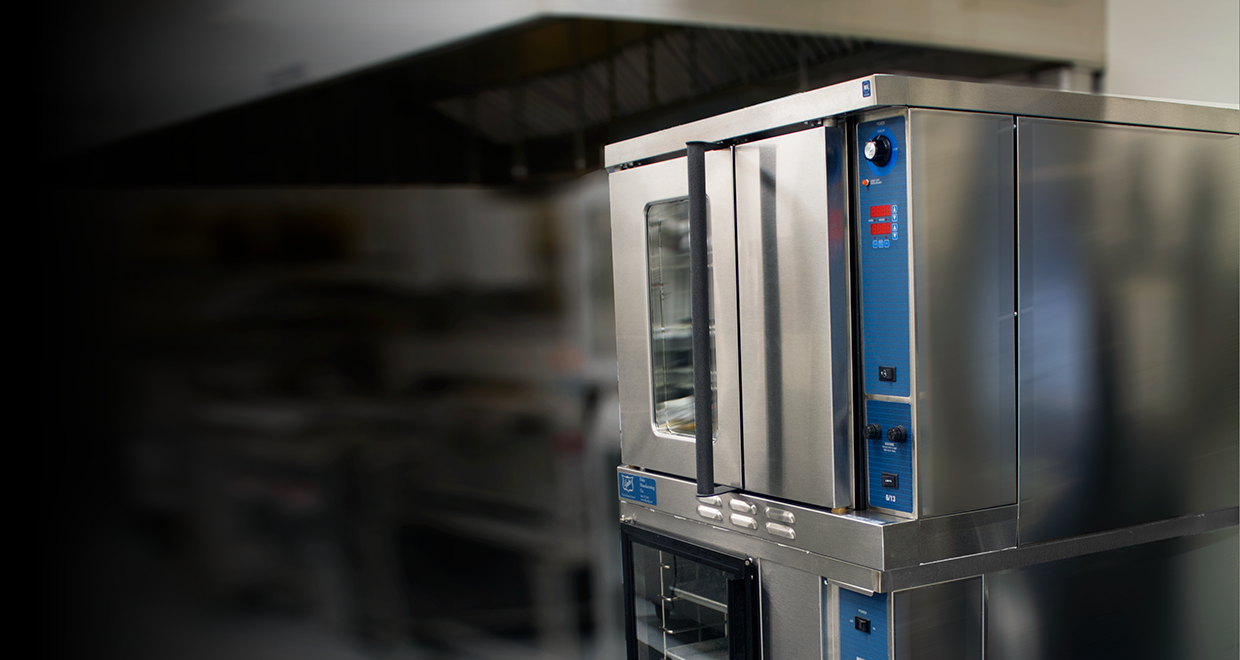 Proven Durable.
Built to Last.
Better performance.
Easier maintenance.
Greater energy efficiency.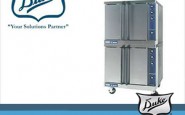 View the Convection Ovens video
Our Full Line
Duke's Convection Ovens are the most trusted and durable in the market. Choose from a variety of configurations and specific features to fit your unique needs.
Premium Line
Flexibility at it's best. Superior construction that is an investment for generations to come. This top-of-the-line customizable series has an array of features and configurations guaranteed to increase your employee productivity and product quality.
Full-size gas or electric cavity
Choice of 2 control panel options
Stainless steel or porcelain cavity
Stainless steel front, sides, and top
65/35 dependent doors or 50/50 independent doors
Interior lights
Full-sized cavity
Double stacked options
6 racks, 13 positions
Bakery depth cavities available
Correctional packages available
Economy Performers
Value that delivers. Duke offers compelling value with a foremost promise of quality and performance with it's E Series line. Even with budget limitations, you can get the dependability, solid performance and durability your production demands
Full size gas or electric cavity
Porcelain cavity
Stainless steel front, painted steel top and sides
50/50 independent doors
Double-stacked options
5 racks, 13 rack positions
Compact Space Saver
Small and mighty. The 5/9 Series delivers exceptional performance while fitting perfectly within your smaller space configurations. A great solution for counter top spaces that still require high volume output, backed with dependability and lasting durability.
Electric only
Choice of 2 control panels
Porcelain or stainless cavity
Stainless steel front, sides, and top
Half-size capacity
Double stack options
Single door
5 racks, 9 rack positions
Energy Efficient
As an ENERGY STAR PARTNER, Duke ovens rank the highest in energy efficiency, year-after-year.
Smaller footprint.
Duke's ENERGY STAR® listed convection ovens were proven to have a higher working efficiency than other gas convection oven brands.
View the full comparison here.
Energy Efficiency Percentages
Which is best for you?
Not sure? We can help. Whether it's straight forward or involves complex planning, Duke can help you build a more profitable operation, specific to your needs.
Duke's convection ovens utilize a direct fire system, meaning that heat generated from the burners or elements are concentrated directly into the cooking cavity. This differs from an indirect fired system which heats a secondary cavity and circulates the heated air into the cooking chamber. This, combined with a lessor amount of BTU's (40,000) than most other ovens, enables the Duke Oven to reduce heat up times while providing a gentle, even bake.
Functional Design
Duke Convection Ovens offer many distinctive design features to make your cooking experience easy.
Solid-state temperature control
Digital 12-hour countdown timer
2-speed fan
Programmable cook temp, cook time and hold temperature
Cook and Hold
Pulse fan
Basic snap action thermostat (200°- 500°F)
60-minute electric dial timer with continuous sounding buzzer
2-speed fan
Worry Free Warranty
Duke aims to keep your production as streamline as possible. Duke's warranties will promise you peace of mind.