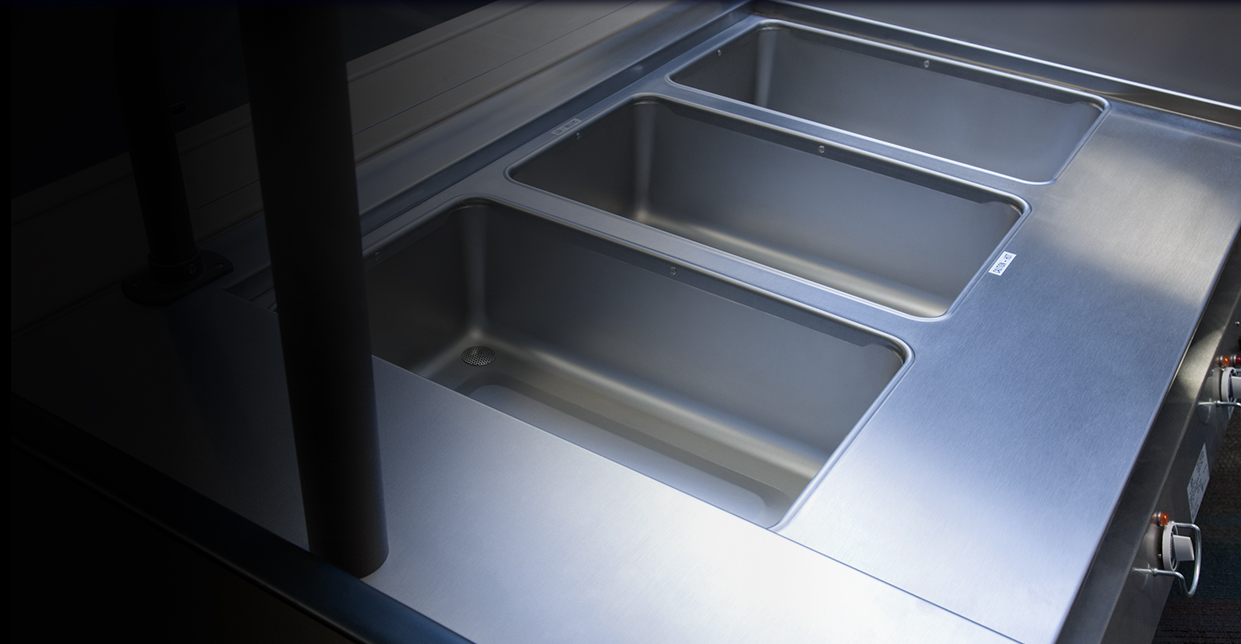 Designed for Quality, Value and Versatility.
300 series stainless steel
individual thermostatic controls
5-year warranty on compressors
Standard features include 300 series stainless steel, individual thermostatic controls, 5-year warranty on compressors, remote on/off switches, slide out compressors and gaskets, and more. The Duke line has two model lines to choose from, the Drop-In/Slide-In and Slimline product families, available in both gas and electric.
Slide-In Electric
Hot Food Units
300 Series stainless steel top rims
Sealed hot food wells with drains, optional
Heavy gauge steel exterior housing
Individual thermostatic compartment controls, indicator lights, master switch
Includes 576 aluminum spillage pans for exposed element units
Slide-In Gas
Hot Food Units
300 Series stainless steel top rims with 576 spillage pans
1/2" IPS gas connector
Pressure regulator included
Drop-In Electric
Hot Food Units
300 Series stainless steel top rims and liners
Sealed wells with drains, optional
Infinite switch controls
Individual controls in remote panels
Wet and dry operation
Drop-In Mech. Assisted
Ice Cooled Cold Pans
300 Series stainless steel top rims and liners
Copper coil refrigeration 1" cast brass drain
Remote mounted on/off switch
Five year warranty on compressor
6' cord and plug
Holds 4" deep pans
NSF Standard 2
Drop-In Deep
Ice Cooled Cold Pans
300 Series stainless steel top rims
1" cast brass drain and plug
Adapter bars for full size pans furnished
Stainless steel liner
Holds 6" deep pans
NSF Standard 2
Drop-In
Mechanical Cold Pans
300 Series stainless steel top rims and liners
Copper coil refrigeration
Remote mounted on/off switch
1" brass drain and plug
Five year warranty on compressor
6' cord and plug
NSF Standard 2
Standard steel recessed clips hold hotel pans 3" below work surface
Self-contained system
Slimline Electric Slide-In
Hot Units
Models include exposed elements, and sealed well with open drain
300 Series stainless steel top rim
Die-Formed stainless steel liners
Available in 1-3 pan capacity
Slimline Electric Drop-In
Hot Units
Models include exposed elements, and sealed well with open drain
300 Series stainless steel top rim
Die-Formed stainless steel liners
Available in 1-3 pan capacity
Slimline Mech. Drop-In
Cooled Cold Pans
NSF Standard 7
300 series stainless steel top rim
Stainless steel liners
Copper coil refrigeration
1" cast brass drain
Remote mounted OFF/ON switch
Cord and plug
Five year compressor warranty
Slimline Drop-In Deep
Mechanically Assisted Ice Cooled Cold Pans
300 series stainless steel top rims
Stainless steel liners
Copper coil refrigeration
1" cast brass drain
Remote mounted OFF/ON switch
Cord and plug
Five year compressor warranty
Adaptor bars for full size pans included
Slimline Drop-In Deep
Ice Cooled Cold Pans
300 series stainless steel top rims
1" cast brass drain and plug
Adaptor bars for full size pans included
Stainless steel liner
Drop-In
Hot Cold Convertible
Automatic water fill and high limit thermostat element protectioin for hot operation
Efficient electric immersion heaters meet NSF-4 performance requirements
Single contol switch for changing from hot to cold operation
Five models available 2,3,4,5,6 well configurations
Hot Holding
Recessed Top
Stainless steel recessed area on top rim
Accommodates 18" x 26" sheet pans
Thermostatic temperature control
120/1 cord & plug (NEMA #5-15P)
TRI-Channel
Cold Food
Eliminates the need for adapter bars
Improved food safety
Superior control of food temperatures
Added space capacity
DRI-Channel
Hot Holding
Full wrap-around channel design for even heat distribution
Three (3) independent heat zones hold at the right temperature all the time
Each channel digitally temperature controlled
Round Telescope Cover

Aluminum Pan

Flat Telescope Cover

Adaptor Plates

Stainless Pan

Serving Shelf

Serving Shelf

Glass Display Shelf

Carving Station